Contemporary Art and Curatorship: from documenta to the Biennale
Summer Course in the documenta City Kassel and the La Biennale City Venice
The Summer School in Contemporary Art and Curatorship offers students the chance to gain insight into the management principles of two of the world's most important and influential contemporary art exhibitions the Kassel documenta and La Biennale di Venezia by bringing together the expertise of scholars, artists and curators based in the hosting cities Kassel (Germany), and Venice (Italy).
Academic Program
The Summer School will offer two distinct but interconnected 2-week modules that together will investigate the history, management principles and strategies of the two art institutions documenta and La Biennale di Venezia. Students have the chance to fully immerse themselves in contemporary art and curatorship for 4 weeks, through lectures and visits of exhibition spaces in Kassel, Berlin and Venice. 
Students can choose to enrol in both modules, or in each module separately, and will be provided with a certificate at the end of each in order to request credit recognition at their home university.
Module 1: "Inside Arts" (Kassel)
International Summer University Kassel, June 20 - July 2, 2023 
(optional Berlin Trip June 17 - 20, 2023)
Relating to the overall topic of studying in and about another country, the Inside Arts program includes the seminar as shown below. The seminar will be held in close cooperation with the documenta professors (information only available in German) of the Kunsthochschule Kassel.
Classes meet daily in the mornings or afternoons. Even though previous knowledge in the selected field of topic can be useful for the completion of the course, the admission is not restricted to students of a similar subject. 
The university program is combined with several leisure time activities, such as workshops and excursions. Kassel's location in central Germany makes other destinations in Germany and Europe easily reachable within a few hours. A special excursion to Berlin is included in the program.
In addition, students will be accommodated at a host family for the time of their stay. Due to this structure the program guarantees a broad and realistic impression of German culture, historical heritage and daily life in modern society.
 
SUBJECT MATTER
The documenta is one of the most influential art institutions that exhibits current concerns and developments of Contemporary Art. This course will look at the different modes in which Contemporary Art addresses current social, political, and climate issues. We will look at documenta 15 with the lumbung practice proposed by Ruangrupa as an alternative to our reckless, accelerated and exploitative (of the people, of the Earth) present. By visiting documenta monuments and exhibitions related to the history of documenta and engaging in talks with members of the documenta team and researchers at the documenta Institute we will learn about the documenta's history, why it is of such importance to contemporary art and discuss recent topics. The participants will develop their own questions in regards to artworks, the exhibitions history, and contemporary art and conduct research in the documenta exhibition and archive. The outcome of this research will be presented and discussed within the group.
Participants of this course can expect to acquire essential knowledge about contemporary art, its current discourses and the relevant vocabulary. This course is addressed to students who wish to become familiar with contemporary art and the documenta. 
After Module 1, you can continue with Module 2 at the Ca' Foscari University of Venice. 
Module 2: "Curatorship of Contemporary Art" (Venice)
Ca' Foscari School for International Education (Ca' Foscari University Venice, Italy),
date: July 3.-14.
The module will alternate between in-class lectures, focus seminars and site visits of relevant art projects and exhibitions in Venice's most important exhibition spaces, with a special focus on the Venice Biennale. For further information please follow the link.
Tuition Fee + Dates
The fee for the 2-week ISU Kassel INSIDE ARTS academic program is 1100 Euro. You can optionally book the accommodation in a host family for 240 Euro and the Berlin Trip for 295 Euro. If you register before May 14, 2023, an "early bird discount" will be granted and the participation fee will be reduced to 990 Euro.
The ISU Kassel INSIDE ARTS will take place from June 21 - July 2, 2023.
Tuition Fee
Included in your fee are: 
The seminar (20 contact hours)
Workshops
Cultural Program
Ticket for public transportation in Kassel
Health and Liability Insurance
Please note: We cannot offer any fee reductions for those who do not want to attend the entire program.
Possible additional expenses include:
Accommodation
Travel expenses
Personal spendings
Lunch at the cafeteria of the University of Kassel - approx. EUR 1.90 - 4.00 per meal
Participation in optional activities (e.g. Berlin trip)
Please make sure, that you bring enough cash with you on the day of arrival to cover any additional cost and have spending money for food and beverages to last for the first few days.
 
Dates
Application: Admissions are done on a rolling basis until all spots are filled. Early registration is recommended to reserve a spot in your preferred seminar.
Arrival in Kassel: June 21, 2023 (before 6 pm)
Berlin Trip: Optional at the first weekend (17th - 20th of June)
Program ends: July 1, 2023
Excursions and Cultural Program
The Inside Arts program offers manifold and interesting excursions, cultural programs and leisure activities, likes movies, sports and hiking, game night, etc. All included in the program fee. 
Excursion Destinations
Kassel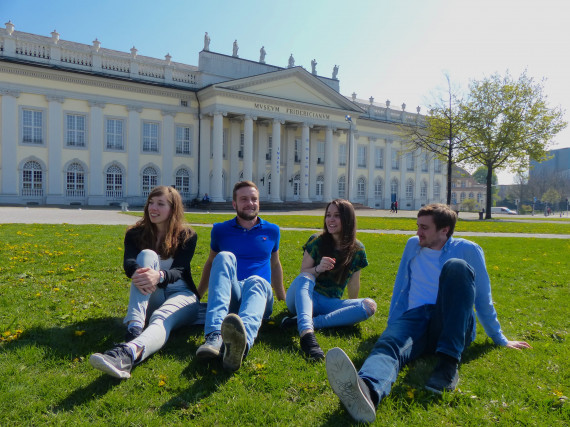 Join a guided city tour and scavenger hunt through Kassel and see the continent's oldest museum and Germany's oldest theater and many other interesting buildings and places. Also get to know the life and work of the Brothers Grimm, whose fairy tales such as Snow White and Cinderella are well-known all over the world
Nature Walk – Bergpark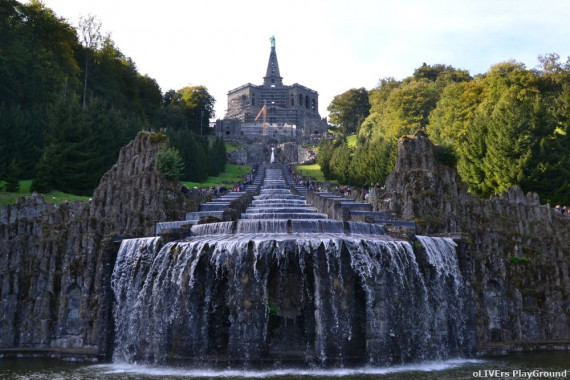 Bergpark Wilhelmshöhe is a landscape park in Kassel. The area of the park is 2.4 square kilometres (590 acres), making it the largest European hillside park, and second largest park on a hill slope in the world. Construction of the Bergpark, or "mountain park", began in 1696 at the behest of the Landgraves of Hesse-Kassel and took about 150 years. The park is open to the public today. Since 2013, it has been a UNESCO World Heritage Site.
Fritzlar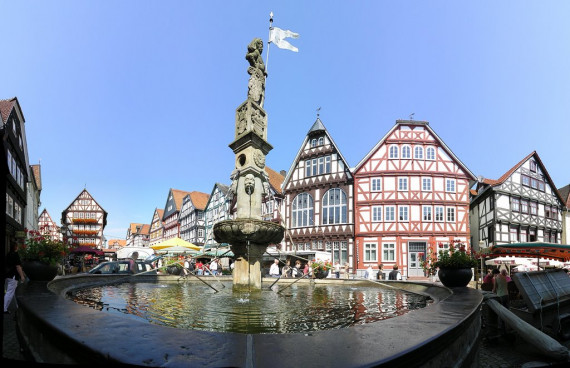 The town has a medieval center ringed by a wall with numerous watch towers. Thirty-eight meters (125 ft) high, the "Grey Tower" ("Grauer Turm") is the highest remaining urban defense tower in Germany. The city hall, first documented in 1109, with a stone relief of St. Martin, the town's patron saint, is the oldest in Germany still in use for its original purpose. The Gothicchurch of the old Franciscan monastery is today the Protestant parish church, and the monastery's other buildings have been converted into a modern hospital. Many houses in the town center, notably around the market square, date from the 15th to 17th centuries and have been carefully maintained or restored. The town is dominated by the imposing Romanesque-Gothic Church of St. Peter from the 12th-14th centuries.
German Folk Dance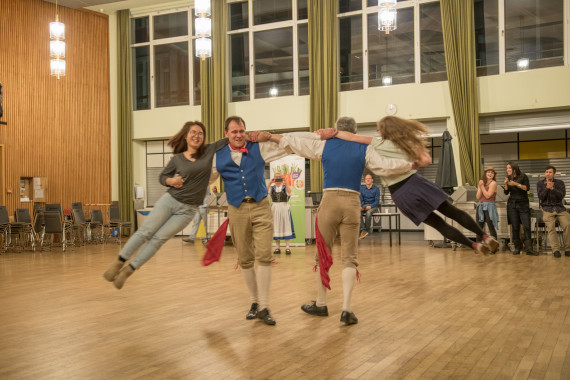 Come and enjoy yourself in our folk dance! Germany has many different regions – each having preserved its own cultural identity. Traditional folk dance is obviously an important part of this heritage. So why do you not join the workshop and experience it yourself. A local folk dance group from Kassel will be invited to show you their best moves. 
Berlin Trip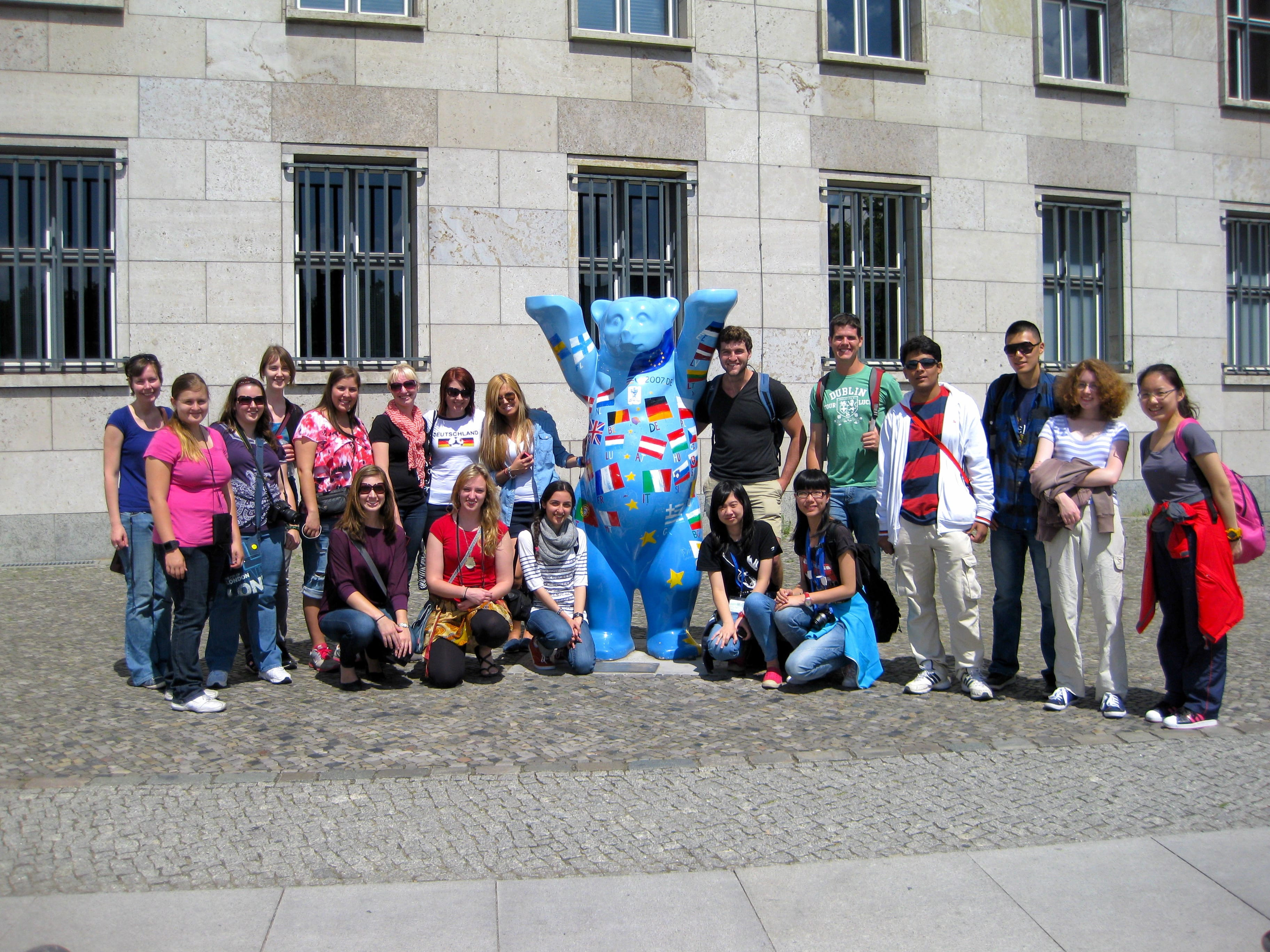 Spend some days in the exciting German capital
Join a guided city tour through Berlin
Experience German history and politics "in a nutshell"
Meet a Member of Parliament in the Reichstag building
Visit renowned museums and theaters
Go shopping and try the famous Berlin Currywurst 
This trip includes:
Accomodation and breakfast in Berlin
A ticket for public transportation in Berlin
Support service and guided tours as well as museum visits in Berlin
Program is subject to change.
Accommodation in a Host Family
The Inside Arts program is one of the few short-term academic programs in Germany that offers the unique experience of living with a German host family for the duration of the program. The homestay will add immeasurably to your study abroad experience and guarantees diverse opportunities to improve your language and intercultural skills.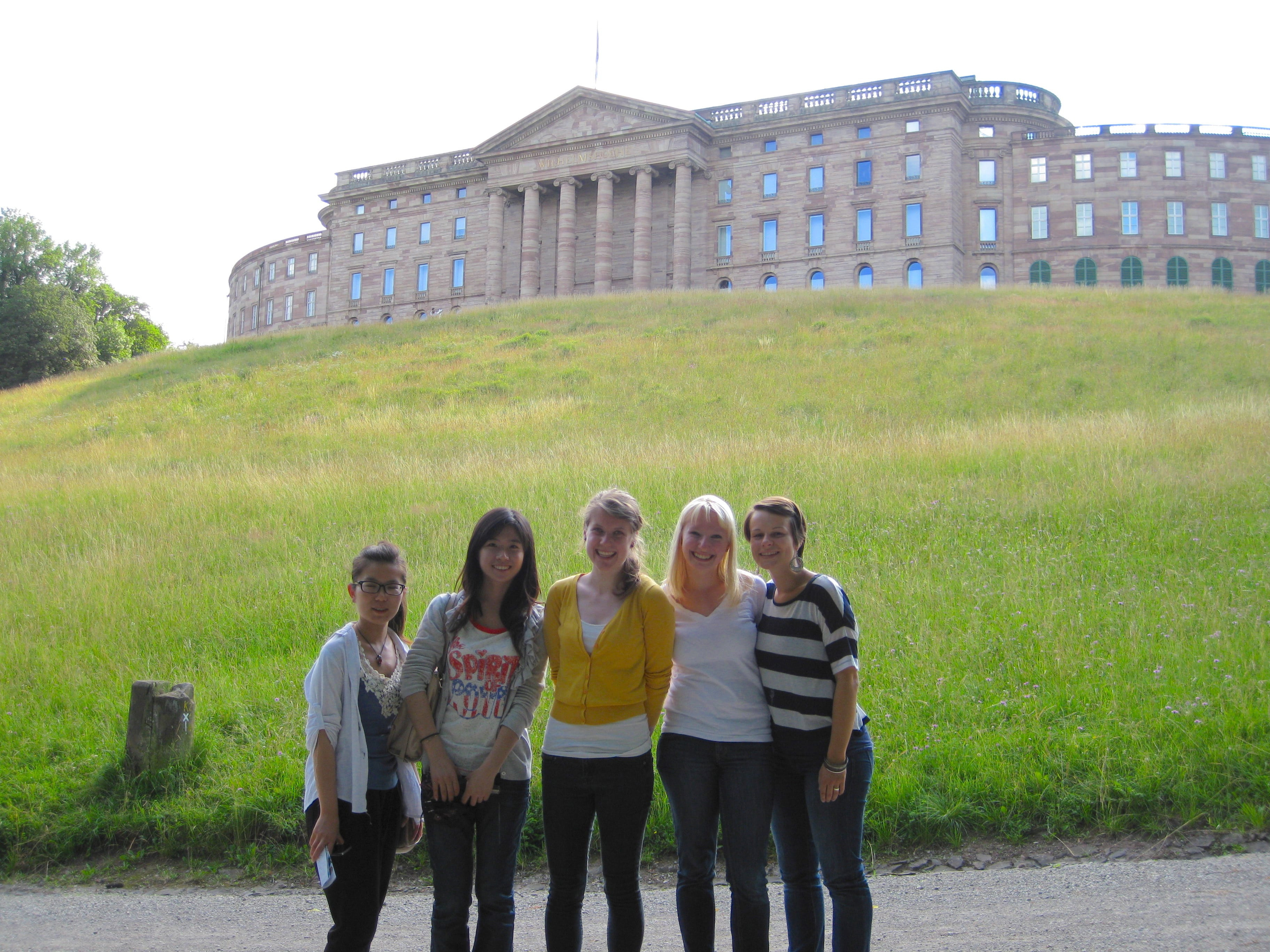 Included in the accommodation
Our families are carefully selected and we work closely with them to provide qualified accommodation and a caring environment. 
Living with a host family is definitely the best way to adjust to another language and culture. You will learn the language faster and experience the customs and traditions of Germany first hand.
Our families live in and around Kassel. Their homes can easily be reached by tram or bus. In your free time, your family will help you discover the best local places. You will get insider information about the best cafés, parks, shops and so on. Enjoy home-cooked meals, rewarding conversations with your hosts and collect unique memories of your time in Germany. It is an experience you surely do not want to miss!
Meals
From Monday through Friday, most students have breakfast and dinner with their host families and have lunch at our campus cafeteria (which also serves vegetarian or vegan meals) or at various campus cafés. As the campus is centrally located, there are also many opportunities to grab something to eat in downtown Kassel. On the weekend, students will eat with their host family or they will be provided with lunch packages for day trips.
Host family matching
To get to know you better in advance and to learn about your unique needs and interests, we use a student questionnaire. Our experienced host family coordinator will then make sure to find the most suitable family for you, so you can fully enjoy your stay at the Interational Summer Academy.
Please also let us know in advance if you have special dietary needs.
In the case of…
In very rare cases, students feel uncomfortable in their assigned family. If you feel unhappy in your host family, this might be due to miscommunication or culture shock. The Inside Arts team and our experienced host family coordinator will help you in solving any such problems or misunderstandings. If your problems cannot be solved, however, a change of host family is possible.
In exceptional cases we can arrange accommodation in a hotel or hostel. Please note that this might increase the fee for the Insides Arts program. For details, please contact the Inside Arts office as early as possible.
Students who have previously participated in the program, loved their stay with their families and whole heartedly recommended it to future students.
Travel Information, Visa and Insurance
Below you can find useful information concerning your travel to Kassel.
Travel Information
Travel Information
Option 1: Arrival for participants opting for the Berlin trip
Arrival for participants opting for the Berlin trip is June 17, 2023 in Berlin (Airport Berlin BER).
Please note: only for participants who will attend the Berlin trip (June 17 - June 20)!
Most international flights to Berlin arrive at BER . The ISU team will be waiting for all participants at the airport. Here you will get your ticket for public transport in Berlin and we will bring you to our hostel. One of the ISU team members will be waiting for you at the hostel and helping you with the check in.
From BERLIN to KASSEL, June 20, 2023:
There will be a bus from the hostel in Berlin that will take us to Kassel on June 20. In Kassel your host families will welcome you and take you to your "new home".
 
Option 2: Arrival in Germany
For participants who will not join the optional Berlin trip, the official arrival date in Kassel is June 20, 2023 (before 6 pm). The international airport nearest to Kassel is located in Frankfurt am Main. We recommend you to book a flight that arrives in Frankfurt before noon so that you can be in Kassel on time (before 6 pm). Here you can find the airport map.
If you arrive at Terminal 1:       
Pick up your luggage at baggage claim
Follow the signs to the Regional Train Station (Regionalbahnhof) or Long Distance Train Station (Fernbahnhof)
Buy a train ticket to Kassel-Wilhelmshöhe in the "Deutsche Bahn" Travel Center (DB Reisezentrum) or online prior to your departure to Germany (www.bahn.com)
If you arrive at Terminal 2:
Pick up your luggage at baggage claim
Take the Sky Line or the shuttle bus to Terminal 1 and the airport train stations (the shuttle stop is on level two just outside the terminal). The shuttle bus leaves every 10 minutes starting at 5 am and continuing thoughout the whole day. Please note that there is no shuttle between 00.30 am and 5 am, so please follow the signs "Train Stations via Sky Line" during that time
Buy a train ticket to Kassel-Wilhelmshöhe in the "Deutsche Bahn" Travel Center (DB Reisezentrum) or online prior to your departure to Germany (www.bahn.com)
Trains from the airport to Kassel-Wilhelmshöhe train station depart approximately every half hour and take about 1 ½ to 3 hours depending on which train you take. Train connections can be found at www.bahn.com. You can either purchase your train ticket online prior to departure (requires registration and credit card), or directly at the German railway travel center (DB Reisezentrum) at Frankfurt airport
 
Train services from Frankfurt to Kassel
There are two different service classes bringing you to Kassel after your arrival in Frankfurt:
The Inter City Express (ICE) from the station for long-distance trains "Fernbahnhof" (see airport map ca. 650 kB) for approx. 55 Euro one way; duration 1 ½-2 hrs.
The Regionalexpress (RE) from the station for regional trains "Regionalbahnhof" (see airport map ca. 650 kB) for around 39 Euro one way. If you take the Regionalexpress we recommend to buy the "Hessenticket" (35 Euro). (Valid from Monday to Friday for one day from 9 am until 3 am of the following day / on Saturday and Sunday and bank holidays  from 12 am until 3 am of the following day.) Duration: 2 ½ - 3 hours.
Please note: Up to five people can travel with one "Hessenticket". The more people you are the cheaper it gets for every person (www.bahn.com).
Arrival in Kassel:
Your first stop upon your arrival in Kassel is the Kassel Wilhelmshöhe Train Station, so make sure you get off at this train station. The ISU team or your host family will be there to welcome you and take you to your new home for the next weeks in Kassel.  
Please note: In case you arrive earlier, you should find alternative accommodation until June 20, 2023.
Departure from Kassel:
The program "Contemporary art and curatorship: from documenta to the Biennale" ends on July 1, 2023. 
Please note: If you are planning to stay longer it is your own responsibility to find alternative accommodation.
Depart from Kassel-Wilhelmshöhe to Frankfurt Airport. The duration and the prices will be similar to your arrival.
If you join the Module 2 in Ca' Foscari University Venice, Italy, you can travel to Venice by airplane from Frankfurt Airport or by train (www.bahn.com) and bus (long distance bus) from Kassel-Wilhelmshöhe.
VISA
VISA
The German Embassy in your home country will inform you whether or not you need a visa in order to participate in the Inside Arts program. You can find contact information for the German Embassy on the German Foreign Office website.
Or have a look here: Visa requirements - List of countries  
In case you do need a visa, your visa application will require a "Letter of Invitation" from the University of Kassel. We will send you a "Letter of Invitation" as soon as you have registered and paid the registration fee.
Please note: Visa processing takes six weeks on average. If you apply for your visa too late, you might not be able to attend the Inside Arts program.
Health and Liability Insurance
Your fee covers health and liability insurance for the time of your enrollment at Inside Arts program.
If you need further detailed information concerning the insurance policy, please contact the Inside Arts office.
Application
In order to apply for the program, please write an email to isu@uni-kassel.de
Please note: Minimum age for participation in the program is 18 years.
 
Registration and Payment Information
After sending your application form to the ISU office, we will send you a confirmation via email. Upon acceptance of the application, you will receive an invoice with the detailed payment information from us. The payment should be received by us 30 days after the date of the invoice. As soon as we received the payment, we will send you an acceptance letter. 
Please understand, that no place can be reserved for you until we have received the fee.
Banks usually also charge us for the processing of transfers, cheque or credit card payments. Please note that we will have to pass these fees on to you upon your arrival in Kassel.
Cancellation Rights
Please note: If, for any reason, a participant wants to withdraw his/her registration, the participant has to inform the ISU team immediately. An administrative fee of € 250,- will be retained by the University of Kassel. Should a participant withdraw from the ISU Kassel INSIDE ARTS after the start of the program on the 22nd of June, the ISU will retain the full program fee paid by the participant.
Frequently Asked Questions
Certainly you have many questions in mind concerning our program. Below we have summarized the frequently asked questions and prepared the answer for you.
FAQs
What are the benefits of studying abroad?
Living and studying in a foreign country can provide some incredible experiences. Through a study abroad program such as the Hessen International Summer University (ISU) at the University of Kassel, the cultural and academic ideas can lead one into a new world and cultivate new perspectives.
By participating in our study abroad program, you will likely to make friends from around the world. International experiences are second to none when it comes to enlightening and enriching one's personal and academic development.
What are the advantages of studying at the Inside Arts in Kassel?
The Inside Arts offers two to four-week academic programs, which feature the strengths of studying at a modern university in Germany. Getting in contact with the German language and culture is a rich experience. The University of Kassel plays a leading role in environmental engineering in Germany, and has contributed significantly to the advancement of renewable energy technologies worldwide through its academic research and innovative technology transfer. Taught by faculty members, Inside Arts offers the best opportunities for you to study at a different university.
Germany's cultural heritage lies in its history, arts, literature, music, and architecture. The city of Kassel is not only home to the world famous modern art exhibition "documenta" and an extensive and outstanding museum landscape, it is also where the origins of the Brothers Grimm's famous fairy tales can be found. Kassel and the surrounding region also offer plenty of opportunities to explore German history first-hand. Some of the richest cultural heritage in Germany are here, which makes Kassel truly an ideal place for your student's introduction or further study of German culture.
We ensure that you are well taken care of during your stay in Kassel starting from your arrival in Kassel by providing the airport or train station pick-up and also a 24/7 emergency number. Besides, each of our ISU team member has study abroad experiences, so we know exactly what you might need and feel during your stay in Kassel and therefore they are a perfect companion for you.
Where will I live?
ISU Kassel's unique homestay program offers the exciting chance to experience authentic daily life in Germany first-hand. Staying with a friendly and welcoming family will provide you not only with one of the quickest and most enjoyable ways to learn German through daily interaction and conversation. The host family will also be there to support you throughout your journey of exploring Germany and discovering its customs and people. They will be your home away from home.
Who can help me when problem arise?
Do not worry, you won't be left alone! The ISU team is responsible not only for taking care of the organizational matters for your study, but we will also be there for you and are always ready to help, e.g. going with them to the doctor, in case you need one. We also provide a 24/7 emergency number. In addition, the host families who have been supporting our program for years know exactly how to assist you in case problems arise.
How can I contact my family during my stay in Germany?
You will have internet access on campus as well as at the host family. This way you can always keep in touch with your family and loved ones.
How much German will I need to know?
To feel at home in a foreign country, it usually helps to have a certain grasp of the native language. However, German knowledge is not required. The language of instruction is English and the Inside Arts team as well as the host families speak English.
Learning German in an intercultural setting will not only be a lot of fun, but it will also help to get the most out of your time in Germany. As an additional benefit, living with a host family will give you a great opportunity to put what you have learned into practice outside the classroom and boost the language skills beyond what you would be able to achieve through coursework alone.
How much does it cost to participate in the Inside Arts program?
The fee for the Inside Arts is EUR 1,100
Included in the fee are: 
The seminar (of 20 contact hours)
Workshops
Cultural Program
Berlin excursion
Ticket for public transportation in Kassel
Health and Liability Insurance
24/7 emergency number / service 
Additional Expenses are incurred through:
Travel expenses
Personal spendings
Lunch at the cafeteria of the University of Kassel - approx. EUR 1.90 - 4.00 per meal
Participation in optional activities such as Berlin Trip prior to ISU
Can I pay with a credit card in Germany?
Yes, you can use your credit cards (Visa or Mastercard) and PayPal in many supermarkets and stores in Germany. However, in smaller stores it is not possible to pay with credit card or PayPal. If you need to get cash, ATMs can be found in the city center and on campus.
What types of scholarships are available?
We unfortunately have no scholarships available for the Inside Arts program.
Does I need a Visa to participate in the Inside Arts program?
The German Embassy in your home country will inform you whether or not you need a visa in order to participate in the Inside Arts program. You can find contact information for the German Embassy on the German Foreign Office website. Or have a look here: Visa requirements - List of countries  
Please note: Visa processing takes six weeks on average.
How safe is Germany?
According to international rankings, Germany is a safe country. There is no reason to be excessively worried about crime. People move about freely through German country villages or large cities, day or night, without taking special safety precautions. German police are regarded as helpful and reliable. You can call the police free of charge from any telephone in Germany by dialing 110. Most importantly, you can rest assured that our ISU team is always ready to help.
Practically every country in the world maintains an embassy or consulate in Germany. Therefore, if problems arise, you will be able to contact a representative from your home country.
How good is medical treatment in Germany and how will I be insured?
Patients in Germany receive excellent medical treatment. With its dense network of highly qualified doctors, the German health care system is regarded as one of the best in the world. Should you need medical treatment, there is probably no better place to receive top-notch health care than in Germany.
The program fee covers a health, liability and accident insurance during the Inside Arts program. The health insurance won't apply to any chronic illness, allergies or pregnancy. For further information please contact the Inside Arts office.